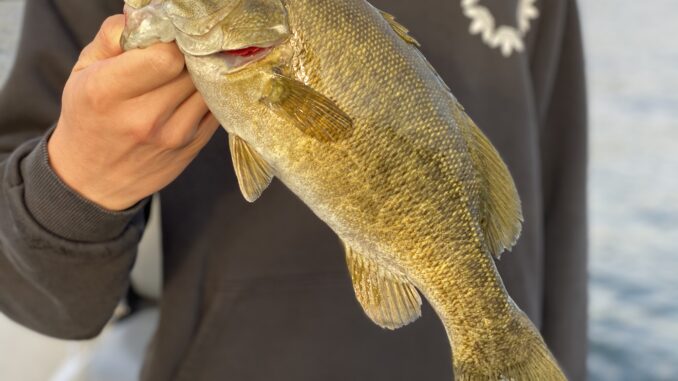 July 24, 2020
Fishing Time: 6:30 p.m. – 8:30 p.m.
Rating: 5
Weather Conditions: Sunny with clear skies
Bait: 1/4 ounce Strike King Tour Grade Bluegill Swim Jig with 3.8″ Keitech Pro Blue Red Pearl FAT Swing Impact Swimbait
Rod: Abu Garcia Veritas Winch Crankbait Rod
Reel: Shimano Curado Casting Reel
Line: 12-pound Yo-Zuri Hybrid Fishing Line
Total Bass Caught: 1
Final Weigh in Weight: 1.78 pounds
After a busy past four weeks kept me off the lake, I finally managed to find some time to head down to Lake Washington to get some fishing in. I arrived at the boat launch around 6:30 p.m. and, thinking that the bass would be in post-spawn mode, started out by fishing the weedy drops offs near Newcastle Beach Park. I used a shallow running jerkbait to work the top of the drop offs and a deep running jerkbait to work the bottom of them, but after 20 minutes without any interest, it became clear that I needed to try something else.
Since drops offs didn't seem to be producing, I decided to head over to Gene Coulon Point to do some dock fishing. Using a bluegill colored swim jig, I cast along the edges of each dock, hoping to entice a hungry bass to bite.
On the fifth dock that I came to, I did just that. I cast right in between the dock and its covered boat stall and used a slow, steady retrieve to bring my swim jig back to the boat. About a quarter of the way into the retrieve, I felt something hammer my lure. I gave a huge hook set and, after a fantastic fight, had my first bass of the day. When I put it on the scale it came out to be a 1.78 pound smallmouth.
Thinking that I may be on to something, I continued fishing the docks around Gene Coulon Park, but after about a dozen unproductive casts it became apparent that I had caught the lone bass in the area.
Wanting to try a spot I had never tried before, I decided to motor over to the V-Mac sunken forest to see if there were any suspending smallmouth there. The area looked extremely promising and had over a dozen pilings that sat in 20+ feet of water. However, none of these pilings seemed to house any fish, so after 10 minutes I decided to head back to more familiar territory and motored over to the I-90 bridge.
By the time I arrived at the bridge, it was already starting to get dark, so after a couple of unsuccessful casts, I decided to just head in and call it a day.
Observations: The water temperature ranged from 72-75 degrees today, which is right about where I would expect it to be at this time of the year. However, despite these warm water temperatures, the bass still seem to be rather inactive, indicating that they may still be in the post-spawn lull. With that said, the lone bass that I did catch seemed to bite out of hunger and came in 12 feet of water, indicating that the bass fishing should heat up again soon.