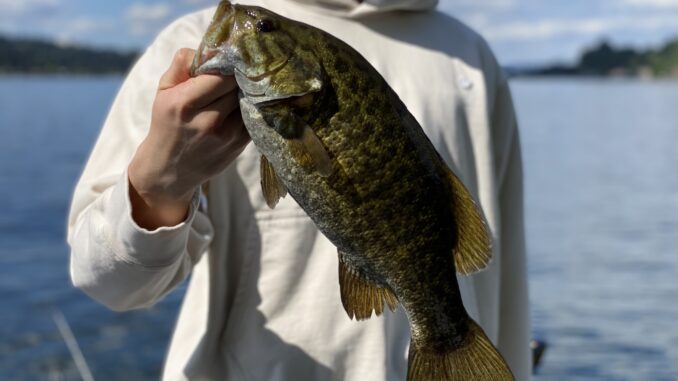 May 2, 2021
Fishing Time: 2:30 p.m. – 6:30 p.m.
Rating: 8
Weather Conditions: Sunny with clear skies
Bait: 3/8 ounce Strike King KVD Smokey Shad Swim Jig with 3.8″ Keitech Pro Blue Red Pearl FAT Swing Impact Swimbait; Gary Yamamoto 5″ Green Pumpkin/Watermelon Senko with 1/0 Gamakatsu Wacky Worm Hook
Rod: Abu Garcia Veritas Winch Crankbait Rod; G-Loomis GX2 Jig and Worm Rod
Reel: Shimano Curado Casting Reel; Quantum Catalyst PT
Line: 12-pound Yo-Zuri Hybrid Fishing Line; 7-pound Sunline Sniper FC Professional Grade Fluorocarbon Fishing Line
Total Bass Caught: 3
Final Weigh in Weight: 8.46 pounds
Today was my first outing of the 2021 season and, boy, was it great to get back out onto the water again. I arrived at the boat launch around 2:30 p.m. and was amazed at just how many bass boats were out fishing. Just pulling out from the boat launch, I saw almost a dozen, with a large number of boats heading into the Newport Shores Canal.
Knowing that the bass were probably getting ready to spawn, I decided to start my day off at the docks just outside of the Newport Shores Canal. These docks are located next to a rocky flat and almost always have a few beds on them, so I knew that this would be a good place to start. The first dock that I came to was an old, wooden dock with a swim ladder that was beginning to fall off. It looked extremely promising, so I picked up my wacky rig and made my first cast of the year over to the base of the swim ladder. As soon as my worm hit the bottom, I felt a small nibble, so I set the hook and had my first fish of the day. It ended up just being a perch (a pretty big one though), but being able to catch a fish on the first cast was still a good feeling. It also told me that the water was warm enough that the fish were actively feeding again. With this in mind, I made another cast back to the same swim ladder and let my worm fall on slack line. I didn't get any bites on the fall, so I gave my worm a few twitches and then let it sit still for a couple of seconds. Almost instantly, I felt the familiar feeling of something picking up my worm, so I gave a big hookset and the fight was on. Feeling the strength of the fish on the other end of the line, I knew right away that this one was a bass. After a fantastic fight, I managed to tire out the smallmouth bass and get it into the boat. Although the bass wasn't the longest, it had a huge gut on it and ended up weighing 2.81 pounds. Judging from its stomach, I would guess that the bass was getting ready to lay eggs, so after weighing it, I quickly released it back into the water.
With two fish in two casts, I couldn't have asked for a better start to the season. I fished a couple more docks in the area, but then ran into another bass boat who had come from around the corner, so I decided to pack up and head over to the V-Mac. Hoping to locate some beds, I started off by working the grassy flats of the V-Mac with a swim jig. I made a few casts towards the shallows, but after that failed to produce a bite, I decided to cast out into deeper water. On my very first cast out into deeper water, I felt something absolutely hammer my swim jig. Surprised by the ferocity of the hit, I barely had time to set the hook before the bass began taking line. The bass made a couple of runs to deeper water, but eventually I was able to wrangle it into the boat. This one was one probably a male, as it was quite skinny, and weighed in at 2.77 pounds.
After 10 more minutes of working the area with my swim jig, I decided to go back to working the shallows and switched over to my wacky rig. I targeted wood pilings, fallen timber, and any visible structure that I could find. On my tenth cast, I cast next to a set of three wooden pilings. Before my worm even hit the bottom, I saw my line jump, so I picked up the slack, gave a big hookset, and was met with the reassuring weight of another solid bass on the end of my line. This one was my biggest of the day and tipped the scales at 2.88 pounds, giving me three quality smallmouth in under an hour of fishing.
However, this hot start quickly fizzled out and after that third bass the bit went silent. I tried the flats around Luther Burbank Park, a couple of points on the north side of I-90, and the docks around Enatai, but wasn't able to generate any more bites. I finished the day up by motoring around the canal next to the boat launch. There, I spotted an absolute monster largemouth on a bed. It was by far the biggest bedding bass I had ever seen in Lake Washington and looked like it was easily 8+ pounds. Unfortunately, it looked to be in the egg laying phase of the spawn and showed no interest in any of the lures I threw at it, so I decided to head in and call it a day.
Observations: The water temperature ranged from 57-60 degrees today, which is right about the temperature that the bass in Lake Washington start spawning. The bass that I caught all came in less than 10 feet of water, signaling that the bass are indeed shallowing up for the spawn. Based on what I saw today, I would guess that a lot of the bigger bass have already spawned and moved out of the shallows, as there were a number of empty nests that I spotted throughout the day. However, I think that the majority of the bass are yet to spawn, so there will still be an opportunity for some sight fishing over the next couple of weeks. The bass that I caught today were all extremely aggressive and it was encouraging that they were all over the 2.5 pound mark. I would have loved to catch that monster largemouth that I saw at the end, but overall it was a great start to 2021 and an absolute joy to be back out on the water again.