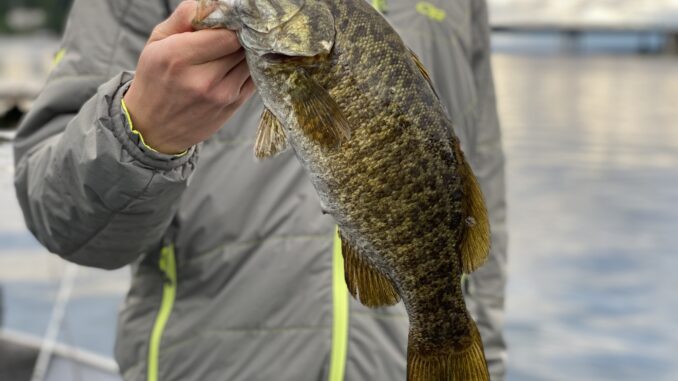 May 24, 2021
Fishing Time: 6:30 p.m. – 8:30 p.m.
Rating: 7
Weather Conditions: Overcast
Bait: 3/8 ounce Strike King KVD Smokey Shad Swim Jig with 3.8″ Keitech Pro Blue Red Pearl FAT Swing Impact Swimbait; Gary Yamamoto 5″ Green Pumpkin/Watermelon Senko with 1/0 Gamakatsu Wacky Worm Hook
Rod: Abu Garcia Veritas Winch Crankbait Rod; G-Loomis GX2 Jig and Worm Rod
Reel: Shimano Curado Casting Reel; Quantum Catalyst PT
Line: 12-pound Yo-Zuri Hybrid Fishing Line; 7-pound Sunline Sniper FC Professional Grade Fluorocarbon Fishing Line
Total Bass Caught: 2
Final Weigh in Weight: 4.05 pounds
After a busy two weeks kept me off the water, I finally managed to find some time to get get some fishing in. I arrived at the boat launch around 6:30 p.m. and decided to start at the canal just outside of Newport Shores to see if any largemouth were hanging out in the shallows. I worked the shoreline with a wacky rig and specifically targeted spots with fallen timber and visible vegetation. On my ninth cast in the canal, I cast over to the middle of a large fallen log that sat adjacent to some lilies. As soon as my worm touched the water, I saw a little movement and then felt something bite. Surprised by the quickness of it all, I gave an abbreviated hook set and rapidly began working the bass back towards the boat. About halfway back, I felt the bass make a quick dash for the surface, but before I could react, it jumped up and spit the hook. Fortunately, the lost bass wasn't a big one and, judging from the glimpse that I got, I would estimate that the bass that got away was only in the 1.5 to 2 pound range.
Putting the lost bass in the rearview mirror, I made a couple of more casts in the canal before heading out to try some dock fishing just north of the canal. Scouting out which dock to start at, one dock in particular really piqued my interest. This dock was intriguing, as it had two distinct platforms: a shallow one that sat in less than five feet of water and a deeper one that sat in 15 feet of water. These two platforms were connected by a long wooden walkway, making it a prime location for bass to congregate. Believing that the bass were shallow, I made my first cast over to the back side of the shallow platform. I didn't feel anything bite on the initial fall, so after my worm hit the bottom, I gave a few twitches and then let it sit still. Within a couple of seconds, I saw my line begin to move, so I picked up the slack and gave a huge hook set. Being extra careful with this bass, I made sure to keep it low in the water column to prevent it from spitting the hook. When I finally felt the bass tire, I brought it to the surface and swung it into the boat. The bass ended up being a smallmouth and appeared to be rather beat up from the spawn. However, despite this, it still weighed in at a respectable 2.29 pounds.
With my suspicions of the bass being shallow confirmed, I continued targeting docks that sat in less than five feet of water. I managed to get a couple of bites, but unfortunately wasn't able to get any more bass in the boat. After 30 minutes in the area I decided to head over to another shallow water hotspot: the V-Mac. I started out by working the shoreline with my wacky rig like I normally do, but after this failed to produce any bites I switched over to a swim jig to see if the bass were looking for a moving bait instead. This switch proved to be exactly what I needed, as on my third cast with the swim jig I skipped my jig underneath some overhanging branches and had a bass absolutely hammer my bait. This one I managed to get into the boat and after getting it on the scale it came out to be a 1.76 pounder.
After releasing the bass, I noticed that it was starting to get dark, so I decided to end on a high and call it a day.
Observations: The water temperature ranged from 59-60 degrees today, which was a little colder than I expected considering this was right around the temperature of the lake two weeks ago. Given how many empty nests I saw today, it is pretty clear that the bass are done spawning and are now firmly in the postspawn phase. This was certainly the case for the two bass that I caught, as both of them came in extremely shallow water (less than five feet) and appeared to be on the skinnier side. One thing that was interesting from this outing was the sheer number of bites that I got. I must have gotten close to ten bites, but was only able to capitalize on two of them. This tells me that the bass were probably just nibbling at my baits today and that they may not be back in the phase where they are actively feeding. Overall, it was still a solid outing and I have high hopes that a big day may soon be on the horizon.