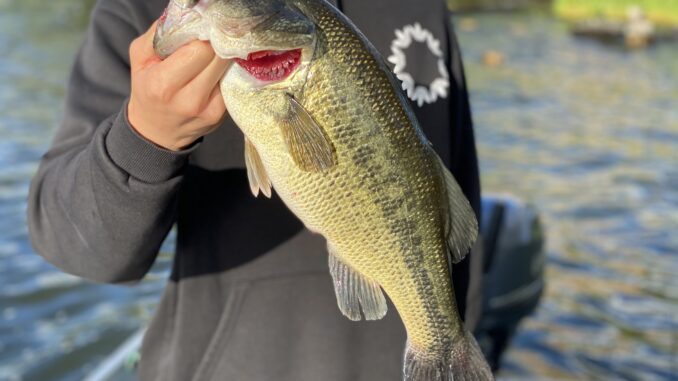 June 21, 2020
Fishing Time: 6:00 p.m. – 8:30 p.m.
Rating: 10
Weather Conditions: Sunny with clear skies
Bait: Gary Yamamoto 5″ Green Pumpkin/Watermelon Senko with 1/0 Gamakatsu Wacky Worm Hook
Rod: G-Loomis GX2 Jig and Worm Rod
Reel: Quantum Catalyst PT
Line: 8-pound Seaguar InvizX Fluorocarbon
Total Bass Caught: 3
Final Weigh in Weight: 9.05 pounds
Today was what I have been waiting all year for.
After a week without so much as a ray of sunshine, summer finally made its grand entrance with a picture perfect weekend. In order to take advantage of this nice weather, I headed down to Lake Washington for the evening bite. I ended up getting to the water around 6:00 p.m. and was met with windy conditions that forced me to seek protected water. The first spot that came to mind was the southern tip of Mercer Island. The cove there offered great protection from the wind and set up perfectly for some post-spawn bass. I started out by using a drop shot to work the rocky docks in the area, but after ten minutes without a sign a life it became clear that it was time to try something new.
Since the deep, rocky docks of MI didn't produce, I decided to flip the script and head over to the weedy shallows of the V-Mac. I worked each of the wooden pillars there with my wacky rig, as this usually produces a bass or two for me. However, today proved to be a different story.
Beginning to wonder where the bass were located, I decided to start working the banks of the V-Mac to see if the bass were cooped up in less than three feet of water. A few yards from where I had been fishing, I spotted a nice overhanging tree that had a large patch of shallow, shady water underneath it. The tree branches were extremely low and it took a perfect skip cast to get my worm under the tree. This cast was quickly rewarded, as once my worm hit the bottom, I felt a subtle tap on my line indicating that something had picked it up. Excited, I got ready to set the hook, but just as quickly as the fish had picked it up, it spit the worm back out. Hoping that the bass was still interested, I let my worm sit still for a few seconds and then gave three twitches with my pole. Almost instantly I felt my line tense up again and this time I was ready. I gave a huge hook set and then saw the flash of a monster largemouth on the other end of my line. Knowing that this was my chance to get my first largemouth of the season into the boat, I carefully maneuvered the bass away from the tree and began rapidly trying to bring it in. After an intense and nerve-wracking battle, I finally managed to get the bass close enough to the boat to swing it in. Heart pounding, I put the largemouth on the scale, where it came out to be a 3.79 pound hawg!
Thrilled beyond belief to have finally caught my first largemouth of the year, I quickly released the bass and got back in position to see what else that magical tree had in store for me. I made another skip cast right under the tree, this time targeting the left side of the overhang instead of the right. Before I could even close the bail on my reel, I felt something grab my worm and take off. Surprised, I slammed the bail shut and gave the mother of all hook sets. The bass immediately began running adjacent to the tree and it took everything in my power to keep my line from getting tangled up in the dozens of overhanging branches. The bass put up an incredible fight and halfway back to the boat leapt out of the water revealing that I had another quality largemouth on the line. Not wanting to lose the opportunity to catch two largemouth in one day, I kept the rod tip down the rest of the way and quickly brought the bass into the boat. This one had a huge belly on it, but was slightly shorter than the last, resulting in a 3.04 pound largemouth.
Onto a little bit of a pattern now, I snapped a quick picture and then put the bass back where it had came from. Not, however, before realizing that the largemouth had a bloody tail, a detail that I had missed on the first one, and a tell-tale sign that those two largemouth been spawning on beds.
With this in mind, I knew exactly where to go next: the hidden Newport Shores canal. I remembered from one of my previous outings that the largemouth love spawning there, so I used my wacky worm to work the lilies, fallen logs, and buggy whips in the canal. On my eighth cast, I cast over to a little peninsula formed by a group of buggy whips. The cast was into about a foot of water, so I actually saw the swirl of the bass before I felt the bite. After a quick hook set and another great fight, I had my third largemouth of the day. This one also had a large gut on it and came in at 2.22 pounds.
Ecstatic and satisfied with my outing, I finished the day up by fishing the boat launch lilies and then decided to head in and call it a day.
Observations: The water temperature ranged from 66-69 degrees today, which is the warmest that it has been all year. This seemed to have finally activated the largemouth and spurred them to begin spawning. All three of the bass that I caught had slightly bloody tails, indicating that, although I didn't see them, the largemouth today were most likely caught on or near beds. This is extremely interesting, as this is the latest that the largemouth have ever spawned in Lake Washington. Because of the spawn, the bass that I caught today were all caught in less than three feet of water. This made for some exciting fights and allowed me to catch a glimpse of each of my three hawgs while fighting them. This was hands down my best outing of the year, producing not one, not two, but THREE quality largemouth. The fact that one of them weighed in at over 3.5 pounds was just extra icing on the cake. I really hope that today's outing was indicative of a growing largemouth population in Lake Washington and I can't wait to get out onto the water again soon.