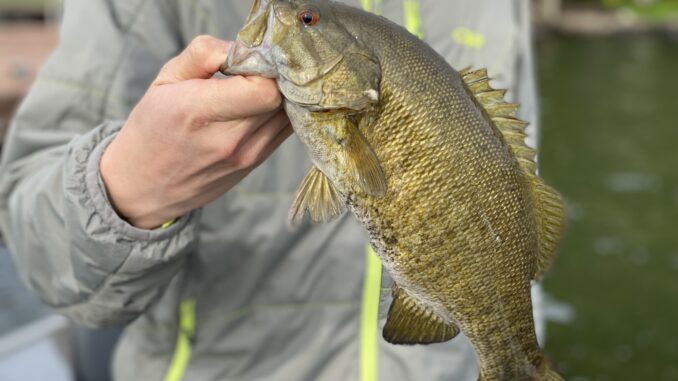 May 5, 2021
Fishing Time: 6:00 p.m. – 6:30 p.m.
Rating: 8
Weather Conditions: Sunny with clear skies
Bait: Gary Yamamoto 5″ Green Pumpkin/Watermelon Senko with 1/0 Gamakatsu Wacky Worm Hook
Rod: G-Loomis GX2 Jig and Worm Rod
Reel: Quantum Catalyst PT
Line: 7-pound Sunline Sniper FC Professional Grade Fluorocarbon Fishing Line
Total Bass Caught: 2
Final Weigh in Weight: 3.00 pounds
Since spotting that monster 8+ pound largemouth during my last outing, all I've been able to think about is getting back onto the water to try to catch it. My schedule has been a little busy as of late, so when I saw that I had 30 minutes of free time I jumped at the opportunity to hit the lake. I arrived at the boat launch around 6:00 p.m. and immediately headed to the bed where I saw the bass. Part of me knew that the bass had probably already spawned and left, but hoping that I was wrong, I picked up my wacky rig and cast it over to the edge of the bed. Once I felt my worm hit the bottom, I gave it a few twitches, and … nothing. A few more casts over to the bed and it became clear that the bass had already vacated the area. A little disappointed, I decided to make the most of my remaining 20 minutes of fishing time and headed over to the point next to the boat launch. I used my wacky rig to work the fallen logs around the shoreline and on my tenth cast, cast over to the edge of a log that extended into deeper water. I didn't feel anything on the initial fall, so I gave my worm a few twitches and then let it sit still for a couple of seconds. After a while, I felt something pick up my worm and saw my line begin to tighten. I waited a few seconds for the bass to fully commit and then gave a huge hookset. The bass was extremely feisty and put up a great fight for its size. When I finally got it into the boat it came out to be a 1.25 pound smallmouth.
Looking at the slim frame on the bass and the fact that there were a lot of vacated nests nearby, I figured that most of the bass were probably in the postspawn recovery phase. This prompted me to head over to the stretch of docks next to Newcastle Beach Park. Since these docks are so close to a major spawning flat, they almost always produce some postspawn smallies and today was no different. On the third dock that I came to I spotted a protected swim ladder located on the backside of the dock. I positioned the boat to give myself an angle at it and then made a long cast over to the base of the swim ladder. Before my worm even hit the bottom, I felt something snatch it and start swimming away, so I gave a quick hookset and had my second smallmouth of the day. This one was a little bigger than the first and weighed in at 1.75 pounds. Glancing at the clock, I saw that my thirty minutes of fishing time were up, so after releasing the bass I quickly headed in and called it a day.
Observations: The water temperature ranged from 58-61 degrees today, which shows that the water is slowly, but surely, heating up. The two bass that I caught came in varying depths of water with one coming in five feet of water and the other coming in 10 feet of water. Regardless, it was clear that a good number of the bass spawned early this year and that many of them have already entered the postspawn. This should set up well for some dock fishing over the next couple of days, with a postspawn lull to be expected right after that. Overall, it was a fantastic outing of speed fishing and with two bass in less than 30 minutes, things are definitely starting to heat up.