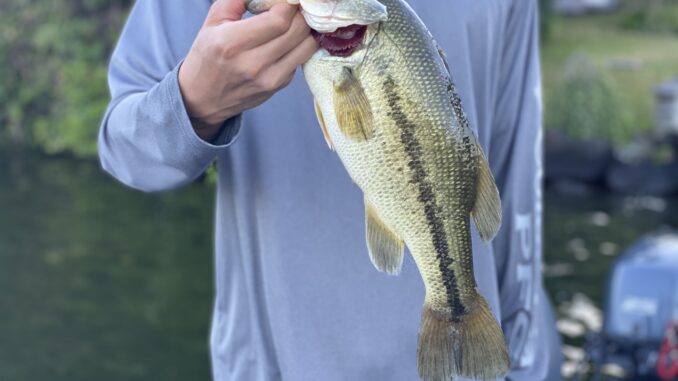 July 7, 2021
Fishing Time: 6:30 p.m. – 8:30 p.m.
Rating: 7
Weather Conditions: Overcast
Bait: Jackall Rerange 110 RT Minnow Jerkbait
Rod: Abu Garcia Veritas Winch Crankbait Rod
Reel: Shimano Curado Casting Reel
Line: 12-pound Yo-Zuri Hybrid Fishing Line
Total Bass Caught: 1
Final Weigh in Weight: 2.68 pounds
Although Lake Washington has produced some great bass fishing this year, the one thing still missing from the season has been a quality largemouth bass. Determined not to let this be the case any longer, I hit the lake with one goal in mind: catch a 2+ pound largemouth.
I decided to start my day out at the canal next to the boat launch. I thought this would be a good place to start because once the water warms up, largemouth seem to love the canal's shallow water timber. In order to fish this timber, I used my trusty wacky rig and targeted the pockets of water in between the timber and the weedy shoreline. I have to admit that I had pretty high hopes for this first spot, but after working the entire canal without a single bite, it was time to switch over to Plan B: the V-Mac.
Pulling up to the V-Mac, I was shocked to see how overgrown the area had become. Where there were once spotty patches of isolated vegetation, there were now huge grass beds and large, expansive stretches of hydrilla mats. I actually considered skipping the spot altogether, but, having made the trek, I decided to spend a good 20 to 30 minutes fishing it before moving on.
Seeing as shallow water didn't seem to be the answer, I decided to head over to the docks directly across from the V-Mac. It's been over a year since I've fished these docks, so before dropping a line in the water I took a couple of minutes to quickly scout out the area. Motoring around, I noticed that, similar to the V-Mac, a lot of the docks in the area had become overgrown with vegetation. However, there was one dock where this wasn't the case, so I decided to start there. I started out by using a drop shot to see if the bass were hanging out deeper in the water column. I made three casts to the dock, but didn't get any interest. Not really feeling confident in the drop shot, I decided to switch over to a jerkbait to see if I could trigger a reaction bite instead. Casting over to the left side of the dock, I began working my jerkbait back with a twitch-pause-twitch-twitch-pause retrieve when all of a sudden I felt something hammer my bait. Hurriedly, I gave a big, sweeping hookset and immediately saw the flash of a white belly about five feet below the surface.
Could it be? I thought to myself. Could this be the largemouth I was looking for?
Frantically reeling to get a better look, I felt the bass make a run for deeper water before I could confirm whether it was a largemouth or smallmouth. Heart racing, I quickly tightened the drag on my reel and began working the bass back to the boat. About 3/4 of the way back, I spotted the telltale black stripe along the bass's side and felt my excitement rise as a few moments later I swung the largemouth into the boat. When I put it on the scale, I saw it flash 2.68 pounds, meaning that my mission for the day was complete.
Overjoyed with my catch, I fished a couple more docks in the area, tried a few casts at the rocky point near Newport Shores, and then decided to call it a day.
Observations: The water temperature ranged from 74-76 degrees today, making this my first outing of the year where the water temperature has been above 70 degrees. As a result of this warmer water, the bass seem to have migrated a little deeper and appear to be in the 10 to 20 foot depth range instead of the sub 10 range that I've been catching them at previously. This migration, combined with the fact that the bass seem to be in ambush mode, sets up well for some dock fishing and I believe that this will be where the money is at for the next couple of weeks. All in all, it's always a great feeling to go out there and accomplish what you set out to do on the water and I just hope that this largemouth will be a sign of many more to come.