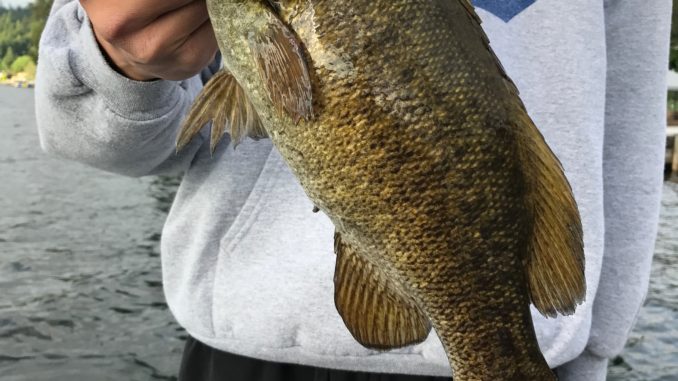 June 03, 2017
Fishing Time: 6:00 p.m. – 8:00 p.m.
Rating: 3
Weather Conditions: Sunny with clear skies
Bait: Strike King 3/8 ounce green pumpkin football jighead with Gary Yamamoto 5" Green Pumpkin Hula Grub; Drop Shot with Poor Boy's Baits Green Pumpkin Erie Darter and Quick Drop 1/4 ounce weight
Rod: Megabass Orochi XX Drop Shot Rod; G-Loomis GX2 Jig and Worm Rod
Reel: Shimano Sustain; Quantum Catalyst PT
Line: 7-pound Sunline Super Sniper FC; 8-pound Sunline Super Sniper FC
Total Bass Caught: 1
Final Weigh in Weight: 2.16 pounds
After going for an eternity without getting on the water, I finally found a solid chunk of time to hit the lake and get some fishing in. We've been having a massive heat wave here in Washington so I expected the water temperature to be higher than normal, but I was astonished to find that it was as high as 69 degrees in some spots on the lake. It was pretty windy when I first got out, so I decided to fish a protected cove on the right side of the lake. I figured that most of the bass would be in postspawn mode, so I started off fishing my swim jig, drop shot, and jig along the bases of drop offs and near deep docks. After going a while without so much as a nibble, I concluded that the unusually high water temperatures must be causing the bass to mix up their patterns, so I decided to mix things up myself and try some new spots. I motored further north until I came to a stretch of deep docks that were located near steep drop offs. With two options, I decided to fish the docks with my drop shot and work my jig up the drop offs. On the second dock that I came to I made a picture perfect cast under the bottom tier of the dock. I knew that if a bass was under the dock I would get it, so I quickly picked up the slack and waited in excited anticipation. A few seconds later, I felt my line get heavy, so I set the hook and immediately knew I had a nice bass on. It fought well, and I had to do everything in my power to keep it from jumping and shaking the hook, but eventually I was able to get it into the boat. It wasn't the longest of bass, but it had a huge gut on it, so I put it on the scale and it came out to be a solid 2.16 pound smallmouth. I continued this alternating approach for thirty more minutes, but wasn't able to get any more bites, so I motored over to the rocky drop offs around rock dock. When I arrived, I saw a bunch of shad jumping near the surface, so I decided to fish an underspin swimbait near the top of the water column. I worked my way around the rock dock point, but wasn't able to find any bass, so I headed over to my trusty V-dock. I worked the dock from every angle and even managed to get a follow back to the boat, but as has been the case with my past few outings I wasn't able to get anything from my favorite dock. At this point, the sun was setting and it was starting to get dark, so I decided to head in and call it a day.
Observations: The water temperature ranged from 67-69 degrees today, which was a lot warmer than I expected for this time of year. The warmer water has caused the lake to become a lot more active and it seemed that there were shad jumping everywhere. I saw massive carp jumping all around the lake and even managed to see some big trout chasing shad near the surface. With the water warming up so quickly its hard to say exactly what the bass are doing, but my guess is that they are somewhere in between spawn and postspawn mode. I caught my bass at the base of a dock in 15 feet of water and while I'm not exactly sure where the bass are, I'm guessing that the bass are about half a month ahead of where they were last year at this time of the year. This means that they should be beginning their yearly runs to docks some time soon. It was great to get back out onto the water again and hook into a quality bass. I look forward to figuring out the bass this summer and catching some more hawgs!