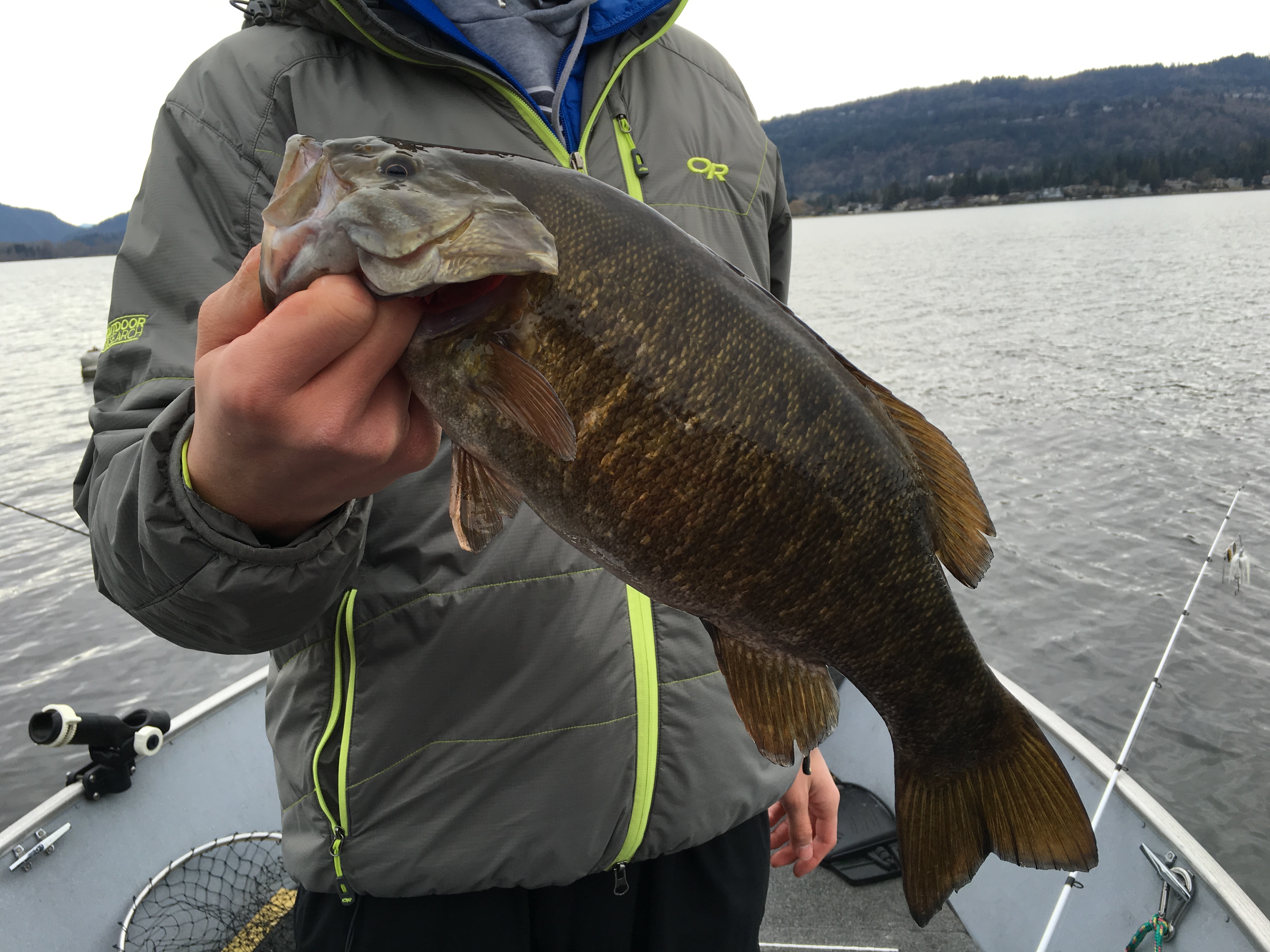 February 7, 2016
Fishing Time: 11:00 a.m. – 1:00 p.m.
Rating: 5
Weather Conditions: Overcast
Bait: Drop Shot with Poor Boy's Baits Green Pumpkin Drop Shot Darter and Quick Drop 1/4 ounce weight
Rod: Megabass Orochi XX Drop Shot Rod
Reel: Shimano Sustain
Line: 7-pound Sunline Super Sniper FC
Total Bass Caught: 1
Final Weigh in Weight: 2.55 pounds
I've been absolutely dying to get out onto the water and get into some quality bass, so when I saw that the weather was going to be decent, I jumped at the opportunity and decided to give Lake Sammamish a try. I expected the bass to be in a pre-spawn pattern, so I decided to fish the drop offs along the spawning flats of the first point next to the boat launch. I began by working a drop shot and a jig back up the drop off, but I didn't have any success with that, so I transitioned over to fishing a jerkbait and a crawfish patterned crankbait adjacent to the drop off. I alternated between these two techniques and worked my way around the first point, but was not able to get a bite. I then decided to go back to an area I knew would produce bass, so I headed over to the third point on the right side. At this point, I still didn't know what type of lure the bass wanted, so I went with something new and tried to slow roll a spinnerbait along the bottom. However, as with all my other baits, I was unsuccessful in getting them to bite. I then decided to go back to my trusty drop shot and bounced it back up the drop off. I tried this for a few times without any success, but then I came to a buoy that seemed to mark the bottom of the drop off. I cast over to the right of it, twitched my worm a few times, and then let it sit there. After about a minute of letting my worm sit on the bottom, I hopped it twice, swam it halfway back to the boat and let it sit on the bottom again. I was just about to reel in my worm in to recast, when I felt a bass absolutely hammer my worm. I quickly set the hook and knew right away that this was a quality bass. I set the drag on my reel and the fight was on. The bass fought like crazy and it took me a while to finally wear it down. After about a minute of battling the fish, I was able to get it back to the boat. I measured it and put it on the scale and it came out to be a 17 inch, 2.55 pound smallmouth. I was extremely excited about this catch because this was my first big winter bass that I have ever caught. I figured that this bass could be part of a big school, so I cast back to the same spot and tried to replicate my retrieve. After bouncing it a few times, I felt another bite, but unfortunately I missed the hook set and the bass was able to get away. I tried that spot for a while longer, but the bite went cold after that and I decided to end on a high note and call it a day.
Observations: The water temperature ranged from 43-45 degrees, which is about what I expected it to be during this time of the year. I caught my bass in around 25 feet of water, which is actually a little shallower than I thought that they would be. The bass seemed to be schooled up around drop offs and I will try and find some more of these drop offs when I get more time. It was extremely encouraging to be able to catch a quality winter bass and I look forward to being able to get back out onto the water and trying to find some more.