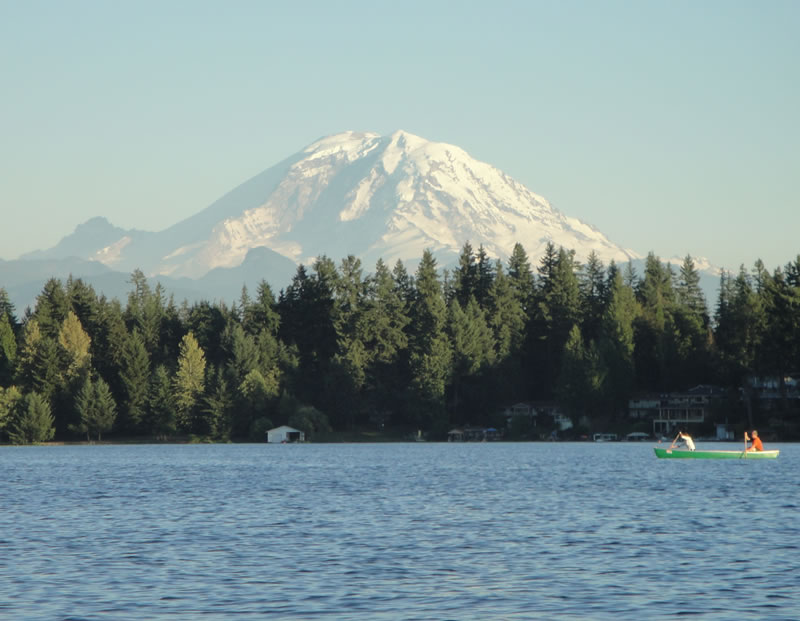 May 31, 2015
Fishing Time: 3:00 p.m. – 6:30 p.m.
Rating: 0
Weather Conditions: Sunny with clear skies
Bait: Strike King Rage Tail Green Pumpkin DB Structure Bug Texas Rigged with a 3/0 Gamakatsu EWG Offset Shank Worm Hook and 3/16 ounce slip weight
Rod: G-Loomis GX2 Jig and Worm
Reel: Quantum Catalyst PT
Line: 8-pound Sunline Super Sniper FC
Total Bass Caught: 0
Final Weigh in Weight: 0.0 pounds
I've heard a lot about Lake Sawyer and its quality bass fishing over the past few weeks, so I decided to head out and give it a try. As soon as I got there, I was impressed by the lay of the lake. Almost every square inch of the lake seemed like a possible bass hideout. Since I had a lot of time and the lake wasn't very big, I figured that I would try and make a whole loop around the lake. The first few docks that I came to were just right of the boat launch and looked promising. However, I noticed that they were very shallow and infested with weeds, so I decided to ditch the drop shot and go with a texas rig. It took me about an hour and a half to work halfway around the lake and I hadn't even gotten so much as a nibble. There were plenty of lily pads to fish, but none of them were producing for me. Along with this, there were a lot of channels to travel down, but I couldn't seem to find structure deeper than 5 feet. I finally came to the north end of the lake and spotted a fallen try within some lily pads. I pitched in between two of its branches and let my bait fall to the bottom. I gave it a few twitches and then felt a nibble. I hopped it a few more times, but didn't get any more bites, so I began to reel it in. My lure was almost to the boat when I saw a massive smallmouth come out of one of the branches and bite at my lure. I set the hook, but ended up missing the fish. I was extremely disappointed because it appeared to be a solid 3-4 pound bass. I continued to work the branches of the fallen tree, but couldn't get anything else after that. After another 2 hours of working the lake and completing my loop, I decided to head in and call it a day.
Observations: The water temperature ranged from 70-74 degrees, which is what I would expect it to be at after seeing the jump in water temperature in Lake Sammamish. At first glance, this lake appears to be be bass paradise (and maybe it is), but after a thorough fishing of it, I have to say that it was a major let down. The lake is infested with weeds and lilies and is extremely shallow, which makes for tough fishing even when fishing your lures weedless. The deepest dock that I managed to find was 13 feet deep and I didn't come across any rocky bottomed areas. All in all, I was extremely disappointed with Lake Sawyer and I don't think that I will be going back anytime soon.