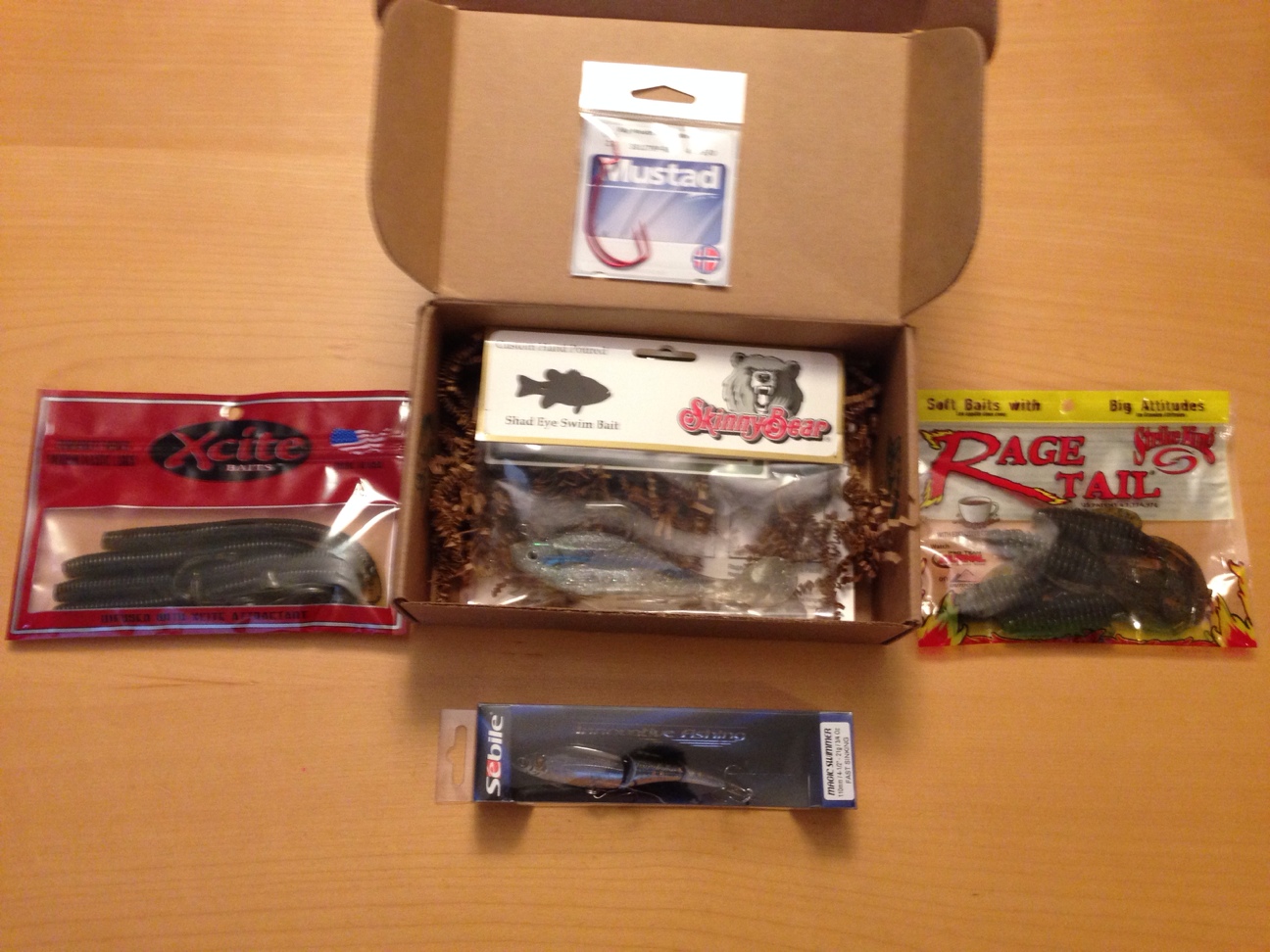 I've been meaning to post this for quite a while, but just got around to it. I wanted to tell you guys that I have indeed received my Mystery Tackle Box for the month of February. Below is a list of the things that I received (Prices are based on those of Tackle Warehouse) :
1. Sebile Magic Swimmer 110 – $13.99
2. Skinny Bear Shad Eye Clear Sexy Shad Swimbait – $2.20
3. Strike King Rage Tail Green Pumpkin Structure Bug (4 Pack) – $3.14
4. Xcite Baits 10.5″ Green Pumpkin Maximus Worm (3 Pack) – $3.99
5. Mustad Big Mouth Light Wire Hook (1 4/0 Hook and 1 5/0 Hook)– $1.40
First Impressions: People say that February is the month of love and that is certainly the case with February's Mystery Tackle Box. This month's box had a total of $24.72 of gear in it, which makes it the most valuable one yet. Since bass feed so heavily on dying baitfish during the winter, I feel like the Sebile Magic Swimmer will be deadly and will imitate these baitfish perfectly. The Shad Eye Swimmer will also do a great job of imitating baitfish and I have to say that I am excited to try them both. However, the thing that I am most excited about is the new structure bug. This soft plastic is brand new and was designed by bass legend Denny Brauer. This bait has had a lot of chatter surrounding it and I have heard great things, so I am stoked to get to try it out for myself. MTB really thought this out and provided the perfect hooks to go along with the structure bug when they included the Mustad Big Mouth Light Wire Hooks. These should also go well with the 10.5" Maximus worms. Big worms have gotten more and more popular so I am excited to see what all the hype is about. All in all, February's Mystery Tackle Box is by far my favorite and I will be sure to update you guys on the lures.