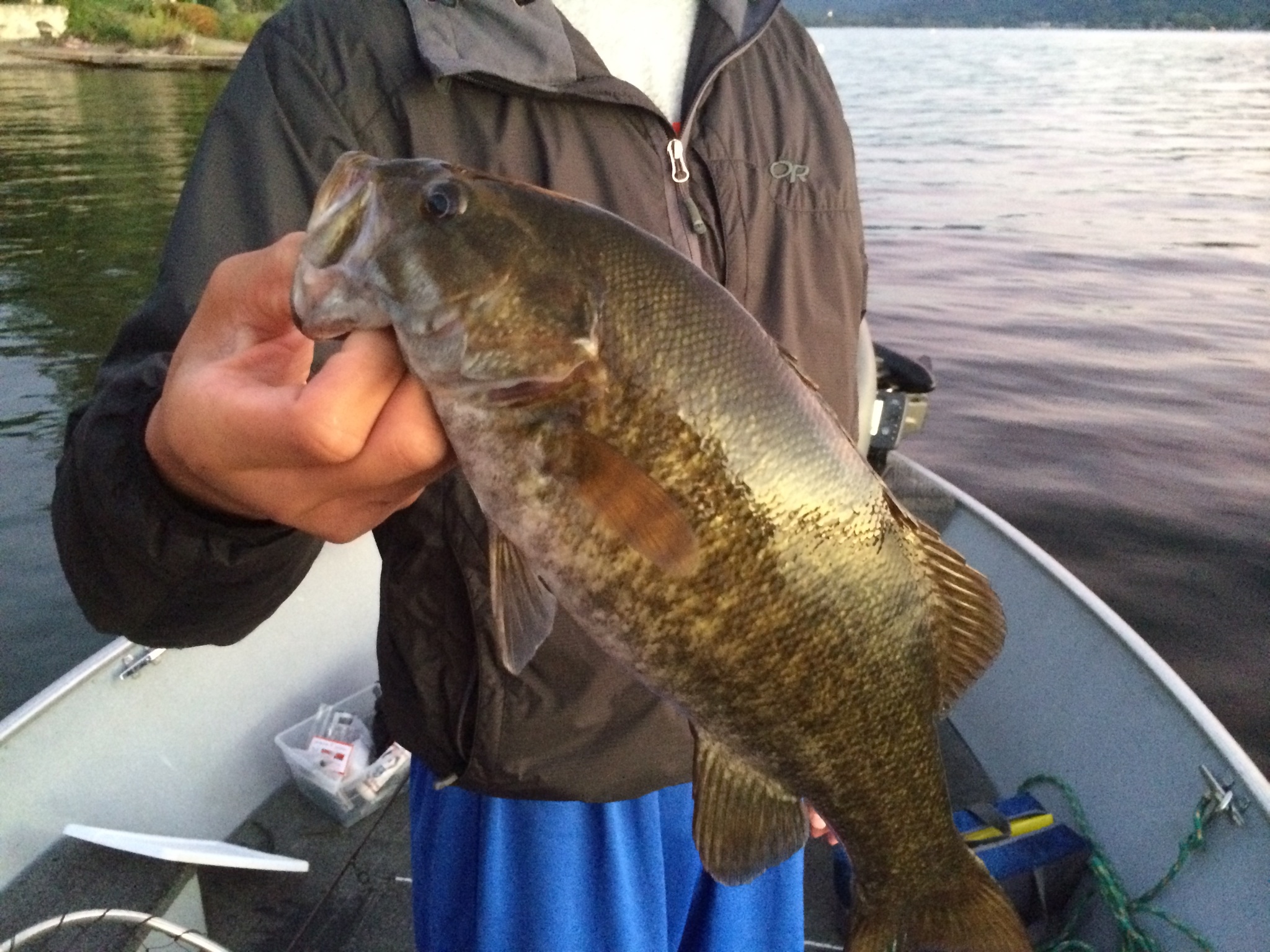 September 27, 2014
Fishing Time: 5:00p.m. – 7:00p.m.
Rating: 6
Weather Conditions: Sunny with clear skies
Bait: Drop Shot with Strike King Green Pumpkin KVD Dream Shot/Roboworm Aaron's Magic Straight Tail Worm and Quick Drop 1/4 ounce weight
Rod: G-Loomis GX2 Jig and Worm
Reel: Quantum Catalyst PT
Line: 8-pound Sunline Super Sniper FC
Total Bass Caught: 2
Final Weigh in Weight: 2.24 pounds
I was interested to see whether Lake Sammamish was going to heat up in the fall months, so I headed out there around 5:00. Given my previous success on the east side of the lake, I headed over to the second point on the east side. I fished around there for about 30 minutes, but wasn't able to land anything. Due to this, I motored over to the Vasa Park area. I  started by fishing the docks and managed to get a few bites, but wasn't able to land anything. However, when I got to Vasa Park, I fished the pilings around there. On the second piling, I casted a few feet away from it and was able to land a 0.5 pound smallmouth bass. After that success, I continued my way down the docks, but couldn't catch anything more. This was due to the fact that it was overgrown and extremely difficult to get a lure down there without picking up weeds. After that frustrating attempt, I headed back over to the east side of the lake and tried the dock with the rock next to it. This dock has been extremely productive, but I wasn't able to catch any bass there this time. I spotted some people fishing the spot earlier, which is probably why I couldn't get anything there today. Next, I headed over to the v-shaped dock, which has also been a productive spot for me. For the first 10 minutes, I wasn't able to get anything and was just about ready to head in, but I knew that I had to catch a good one, so I decided to make one more cast. I casted about 3 feet away from the dock and then felt something absolutely hammer my dream shot. I set the hook and landed a nice 1.54 pound smallmouth. This solid bass was extremely encouraging and gives me faith that there are still big bass active in Lake Sammamish.
Observations: The weather is definitely changing, and with each passing day, the days are getting shorter and shorter. The water temperature today was around 67-68 degrees, which is about what I was expecting it to be. One thing that did surprise me though was how deep the fish were today. I caught my fish in 18-20 feet of water, which is a little bit deeper than I would have expected for the water temperature. I'm not totally sure whether or not Lake Sammamish is going to be good in the fall, but I definitely hope that it does.