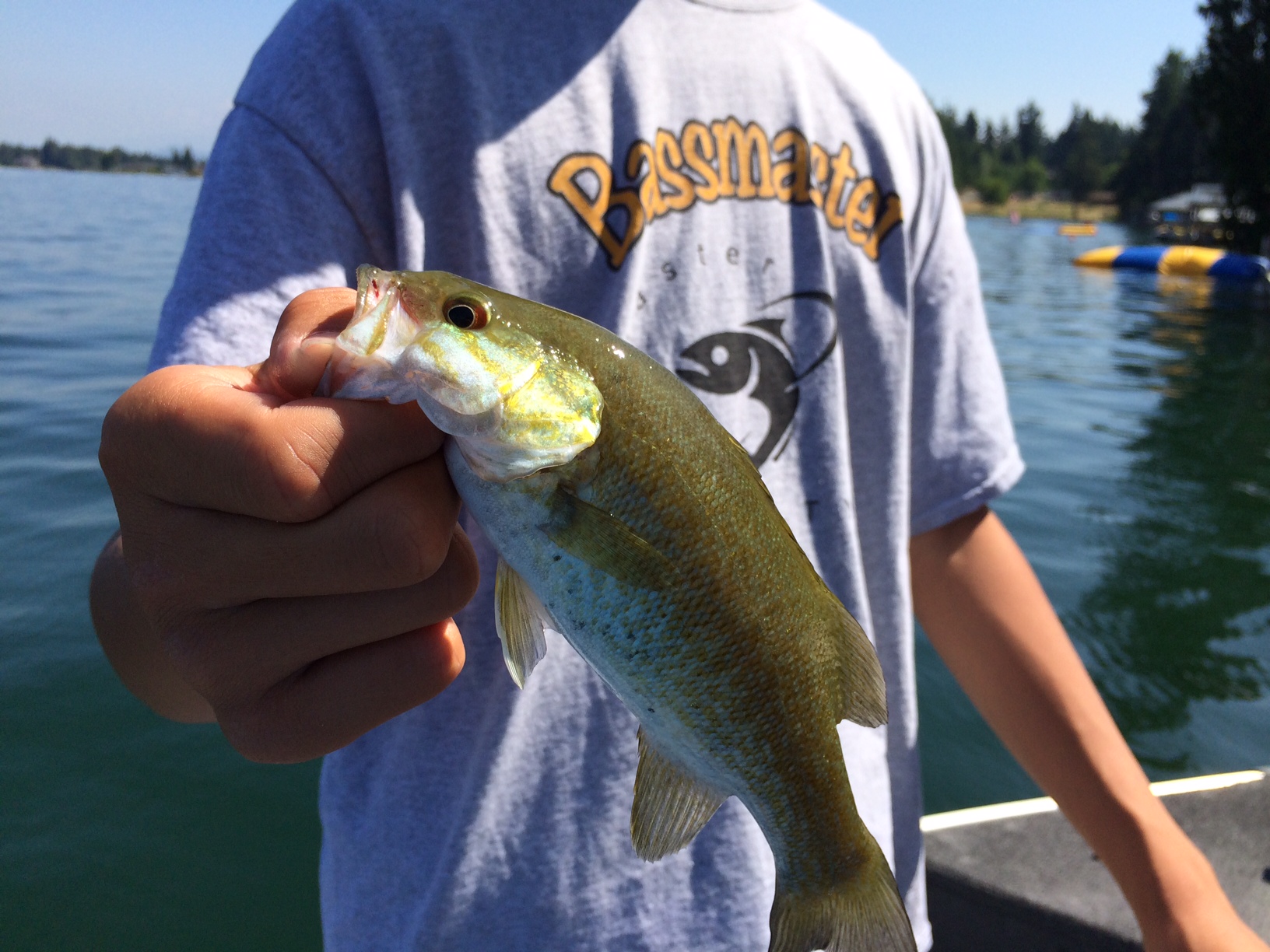 August 18, 2014
Fishing Time: 12:30 p.m. – 3:00 p.m.
Rating: 3
Weather Conditions: Sunny with clear skies
Bait: Drop Shot with Strike King Green Pumpkin KVD Dream Shot and Quick Drop 1/4 ounce weight
Rod: G-Loomis GX2 Jig and Worm
Reel: Quantum Catalyst PT
 Line: 8-pound Sunline Super Sniper FC
Total Bass Caught: 6
Final Weigh in Weight: 3.00 pounds
After I finished fishing Lake Meridian I still had a little bit extra time, so I decided to make the short trip to Lake Tapps. As with Lake Meridian it was my first time fishing Lake Tapps. I had heard a lot of good things about it and saw that they have a lot of bass tournaments there, so I had high hopes when I arrived. I launched at the North Park Boat Launch and it will probably be my last time launching there because it is very crowded and costs $15 just to launch! After getting launched I headed straight across the Lake to some docks. It was pretty shallow, but I decided to give them a go. On my very first cast I got a big bite, but just missed hooking it. I cast back to the dock and hooked into a small 0.5 pound smallmouth. I then moved on and on the third dock I landed another 0.5 pound bass. I kept working my way down and was able to land one more 0.5 pound smallmouth before it got too shallow. I then worked my way around the rest of the lake, but couldn't find any success. One thing that I did notice was that there are a ton of channels, but every dock is extremely shallow. I kept trying the docks, but everywhere I went was shallow. I eventually found a shady patch of water with some pilings by it. I cast to the first one and was able to hook into a 0.5 pounder. I then casted to the next piling and landed another 0.5 pound smallmouth. After a few more casts I landed yet another 0.5 pound smallmouth bass. My luck then ran out and I headed over to the sunken forest. It looked very promising and was the only place that I found with structure that was greater than 10 feet in depth. I casted around most of the stumps, but wasn't able to land any bass. After that failure, I decided to call it a day and head in.
Observations: The water was a little bit warmer than expected with temperatures ranging from 76-78 degrees. I was able to land a good number of bass, but none of any size. I caught mine in depths of 8-10 feet, which is pretty shallow for the temperature of the water. The lake was basically weedless and very rocky, which is the terrain that I like. Unfortunately, the places where there are docks and pilings are very shallow with the deepest ones being at 10 feet (excluding sunken forest). With this being said, I believe that this lake isn't great for the late season (late summer to fall), but would be a great lake for early in the season (spring to early summer).