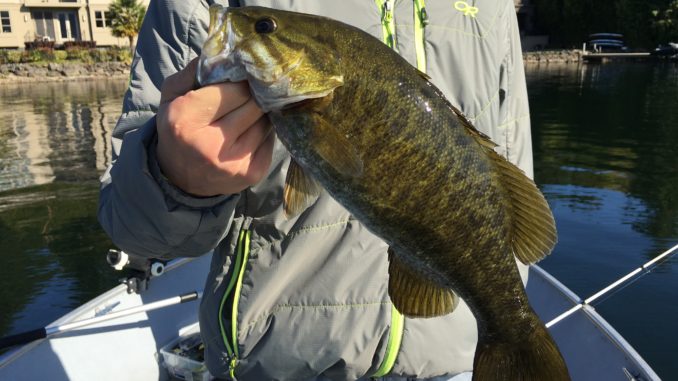 October 9, 2017
Fishing Time: 10:00 a.m. – 2:00 p.m.
Rating: 5
Weather Conditions: Sunny with Clear Skies
Bait: Heddon Chartreuse Shad Zara Spook; Drop Shot with Poor Boy's Baits Green Pumpkin Erie Darter and Quick Drop 1/4 ounce weight
Rod: Megabass Orochi XX Drop Shot Rod;Abu Garcia Veritas Medium Heavy Spinning Rod
Reel: Shimano Sustain;Quantum Smoke
Line: 6-pound Sunline Super Sniper FC; 10-pound Yo Zuri Hyrbid
Total Bass Caught: 1
Final Weigh in Weight: 2.68 pounds
I recently started college and the one question that I always get is: what do you miss most about home? While there are a lot of things that I miss (family, friends, etc.), my go-to response is almost always fishing. I've missed the calm, relaxing presence of the lake, the exhilarating feeling of getting a bite, and most of all, I've missed the thrill of going head to head with best fighting freshwater fish in the world. With images of giant smallmouth always lingering in my head, it was an absolute no-brainer to hit the lake when I finally went back home for fall break. I got a later start than I would have liked, but when I finally arrived I couldn't have asked for better conditions. The sun was bright overhead and the lake was as calm as I had ever seen it. My initial plan had been to work lipless crankbaits along the edges of drop offs, but when I launched my boat I noticed a lot of surface activity by the state park and decided to start with some topwater baits. I alternated between my Zara Spook and a frog and although the fish were jumping all over the place, I wasn't able to get any bites. After this, I decided to go back to what I knew would work and headed to fish the drop offs by the second point on the right. I usually like to fish drop offs by casting to the bottom of them and then dragging my worm back up the hill, but today I decided to mix things up and cast to the top of the ledge first. My first few casts proved to be unsuccessful, but eventually I located an old buoy positioned right on top of a ledge. I cast over to it and slowly worked my worm back to the boat. About halfway back, I gave my worm a quick pop and felt something hammer my lure. I quickly set the hook and the battle was on. I could tell right away from the head shakes and the weight that it was a decent fish. I fought with it for a while, trying to keep it from jumping, and finally after an intense battle was able to get it back to the boat. I put it on the scale and it came out to be a solid 2.68 pound smallmouth. I then continued working my way around the point, working the drop offs with my drop shot, the docks with a jerkbait, and the shallows with topwaters, but wasn't able to get anything else to bite. I heard that a lot of people had been having success up north by the house with the helicopter, so I decided to motor over there and give it a go. The spot looked promising as the house was located on a point with a major drop off that ran from 5 feet all the way down to 40 feet, so I was anxious to get a line in the water. I started off trying to find the schools with my jerkbait and managed to get followers on each of my first three casts. Unfortunately, I wasn't able to get any of them to bite. I worked the area for a little bit longer, then jetted over to fish the lillies and stumps at the north end of the lake. When I got there, I noticed that the water was exceptionally clear and after motoring around for a while was able to locate two monster largemouth holding tight to a fallen stump. I hit the stump with everything I had, a jerkbat, a jig, a tube, a drop shot, but just couldn't get the two bass to bite. I was extremely disappointed because I estimate the two bass to be in the 3-4 pound range. After that I headed over to bass cove to fish the steep drop offs over there. I worked them both ways, fishing from the outside and inside of the cove, but just wasn't able to find any fish. I wanted to keep fishing, but had some things come up, so decided to call it a day.
Observations: The water temperature ranged from 60-63 degrees, which is right about where I was expecting it for this time of the year. The bass seemed to be very active, jumping at the surface and chasing fast moving lures, but I just wasn't able to get them to commit today. I was surprised at how big the bass were during this time and I believe that this is a good sign for the future of the lake. I caught my bass in about 35 feet of water and noticed that the bass were all schooling up around drop offs. It wasn't the best day of fishing, but I was definitely happy to be out on the water again and get a solid bass in the boat.