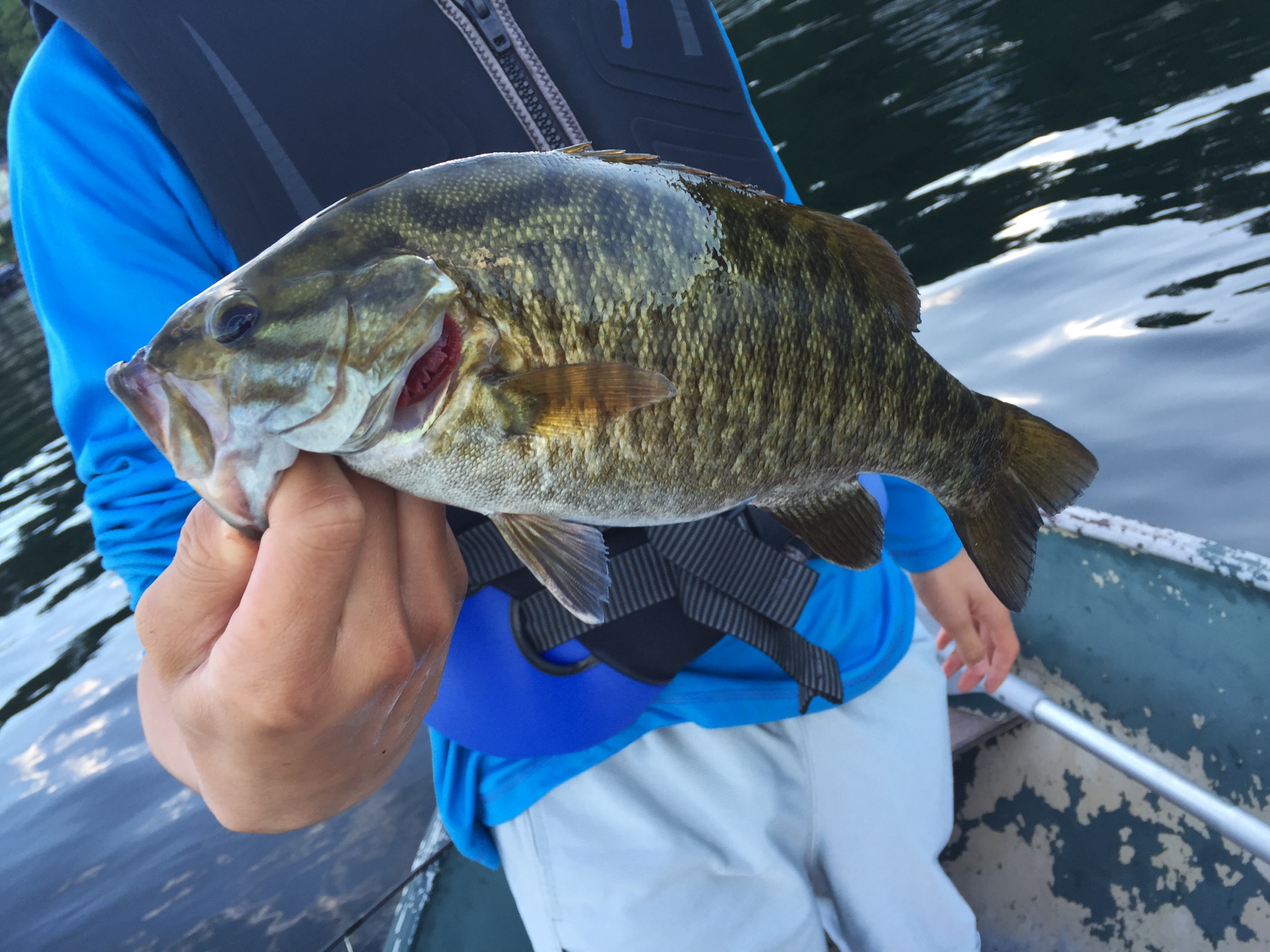 July 27, 2015
Fishing Time: 6:30 p.m. – 8:30 p.m.
Rating: 4
Weather Conditions: Sunny with clear skies
Bait: Drop Shot with  Strike King Green Pumpkin Dream Shot and Quick Drop 1/4 ounce weight
Rod: Megabass Orochi XX Drop Shot Rod
Reel: Shimano Sustain
Line: 7-pound Sunline Super Sniper FC
Total Bass Caught: 3
Final Weigh in Weight: 2.03 pounds
I originally didn't plan on hitting the water today, but after seeing how nice the weather was my friend invited me over for a few hours of fishing. We didn't have much time, so we decided that we would just fish Eagle Point and Bass Cove. The first few docks around Eagle Point were extremely weedy and difficult to fish, which was a little discouraging. However, after a little motoring around, we came to a patch of docks with rocky bottoms. The first one looked promising, so I cast over to the far right piling of the dock. Instantly, I felt my line get heavy, so I set the hook. I fought hard with a nice smallmouth and after putting it on the scale it came out to be 1.28 pounds, which is decent sized. A few docks later, I hooked into another bass. This one was small and probably only tipped the scales at 0.5 pounds, but the thing that was cool was that it was a largemouth bass. This was the second one that I have caught this year, which is definitely a good sign that the largemouth bass population is trying to make a return on Lake Sammamish. After this, the bite at Eagle Point went cold and I wasn't able to hook into any other fish, so my friend and I decided to round the corner and head into Bass Cove. At the very first dock at Bass Cove, I cast my lure in between two pillars and was able to pick up a baby 0.25 pound smallmouth bass. Unfortunately, the bite turned off after this and after going an hour or so without so much as a nibble, my friend and I decided to head in and call it a day.
Observations: The water temperature ranged from 71-74 degrees, which is a little colder than the last time that I went. However, this was to be expected as it was pretty cold over the weekend. I caught my bass on docks that were in 20-35 feet of water and all of them were holding extremely tight to cover. It took pretty accurate casts and a lot of twitches just to get the bass to bite. The water was unusually clear today and you could see 15+ feet down. Along with this, there were a lot more perch in the water and they were very aggressive, which was annoying at times. I have to say that I am surprised that the bass weren't as active during the evening hours because they usually feed during this time period, but it could be that the storm yesterday caused them to move around a little bit and disrupted their patterns. I am extremely encouraged by this spurt of largemouth that I have been seeing and I will have to try and catch some bigger ones in the future.