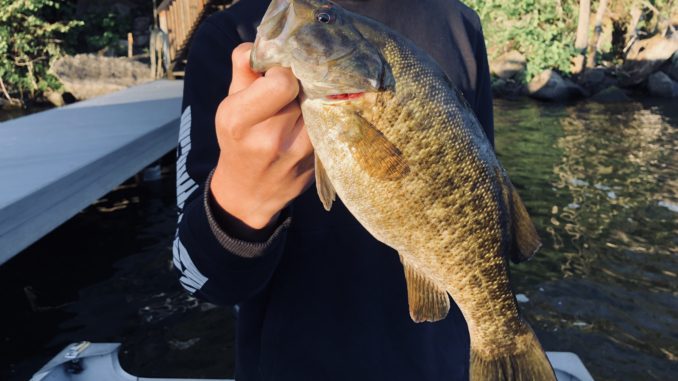 June 1, 2018
Fishing Time: 7:30 p.m. – 9:00 p.m.
Rating: 8
Weather Conditions: Sunny with Clear Skies
Bait: Lucky Craft Flash Pointer Charteruse Shad 115 Jerkbait; Drop Shot with Poor Boy's Baits Green Pumpkin Erie Darter and Quick Drop 1/4 ounce weight
Rod: Megabass Orochi XX Drop Shot Rod; Abu Garcia Veritas Winch Crankbait Rod
Reel: Shimano Sustain; Shimano Curado Casting Reel
Line: 6-pound Sunline Super Sniper FC; 12-pound Yo Zuri Hyrbid
Total Bass Caught: 8
Final Weigh in Weight: 6.50 pounds
With Lake Washington providing such great bass fishing recently, it's been easy for me to forget about Lake Sammamish. In fact, it's been over six months since I last hit my home lake. When I realized what a long time it has been, I decided to go back to my roots and see what I could get to bite on Sammamish. I got out to the lake later than I intended and headed straight to the second point on the right. I wanted to see what depth the bass were in, so I alternated between fishing the docks and the drop offs over there. It took a little while, but on the fifth dock I came to I was finally able to get a bass to bite to bite my drop shot worm. I gave a quick hook set and ended up with a 1 pound smallmouth. A few docks later, I got another bite and was able to bring in a dink 0.5 pounder. With two bass coming from docks, I figured that the bass were shallower than I initially thought, so I decided to stop fishing the drop offs and focus on targeting spots in less than 15 feet of water. As I motored ahead, I noticed that the next stretch of docks all sat above hard, rocky bottoms. Seeing this, I decided to put down my drop shot and switch over to a jerkbait. I didn't get any bites on my first two casts, but on my third cast, I placed my lure so that I could run it past the corner of two docks. Nothing bit as I ran my jerkbait past the first dock, but as I ripped my jerkbait past the second dock, I felt something hammer my lure. I set the hook and, after a solid fight, was able to bring in a 1 pound smallmouth. After that the bite went cold, so I motored ahead to fish the rocky shoreline by rock dock. For my first cast, I cast over to the corner of rock dock and worked my jerkbait back with a twitch-pause-twitch-twitch-pause retrieve. About halfway back to the boat, I felt my rod get heavy, so I set the hook and was onto another bass. This one ended up being 1.50 pounds. A few casts later I had another bass on. This one was a little smaller and ended up being 0.75 pounds. As I was releasing that bass, I spotted a nice rocky pocket behind a deep dock. I cast over to it and, on my first twitch, felt something bite my jerkbait. I set the hook and was able to bring in a dink 0.5 pounder. I figured that the pocket could hold a school of bass, so I cast back to it and sure enough I was able to get another bite. This bass was a little bigger and ended up being 0.75 pounds. After that, I knew there was a school there, so I made another cast over and was able to land a 0.5 pound smallmouth. I was just about to make another cast over, when I realized that I only had 5 minutes to get back to the boat launch before they locked it up. Happy with the quantity of bass I had caught in such a short period of time, I packed up and called it a day.
Observations: The water temperature ranged from 67-68 degrees, which is right about where I expected it to be at this time of the year. The bass were all in less than 15 feet of water and seemed to be actively feeding. All of the bass I caught swallowed my lure and, as can be seen from my jerkbait success, were willing to chase a moving bait. The bass in Sammamish are definitely in post-spawn mode and are all off of their beds. The key for me today seemed to be finding cover that was located around a rocky bottom. This was my first time locating a school of bass on Sammamish and to be able to catch so many bass in such a short amount of time was a lot of fun. Although I could have done with a bass over 2 pounds, it was a great outing and I look forward to fishing Sammamish more this summer.