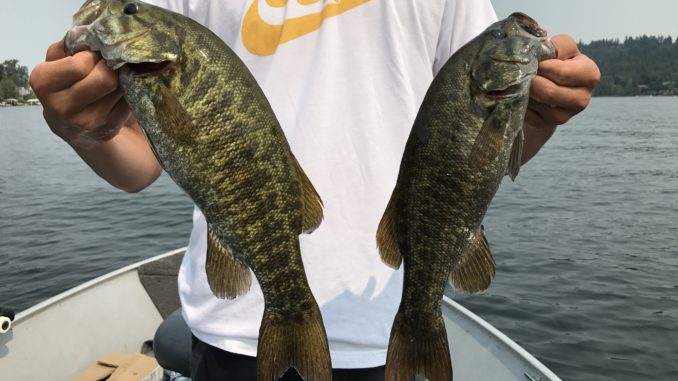 August 6, 2017
Fishing Time: 7:00 a.m. – 11:30 a.m.
Rating: 8
Weather Conditions: Sunny with Clear Skies
Bait: Heddon Chartreuse Shad Zara Spook; Drop Shot with Poor Boy's Baits Green Pumpkin Erie Darter and Quick Drop 1/4 ounce weight
Rod: Megabass Orochi XX Drop Shot Rod;Abu Garcia Veritas Medium Heavy Spinning Rod
Reel: Shimano Sustain;Quantum Smoke
Line: 6-pound Sunline Super Sniper FC; 10-pound Yo Zuri Hyrbid
Total Bass Caught: 8
Final Weigh in Weight: 8.97 pounds
With climate change in full effect, we have had some of the weirdest summer/spring weather that I have ever experienced. This has made the bass very unpredictable and has almost completely shut down the evening bite. With this in mind, I decided to wake up early and see if the morning bite would be any different. When I arrived at the lake, it was like something out of the movies. There was a thin layer of fog over the surface and virtually no wind to speak of. These conditions set up perfectly for the topwater bite, so I decided to tie on a Chartreuse Shad Zara Spook and see what I could catch by the state park. My first few casts proved to be unproductive, but then I spotted a submerged grass flat and cast my Zara Spook over the top of it. I used a quick walk-the-dog retrieve all the way back to the boat and about halfway back I saw a monster bass explode out of the water. I quickly set the hook, but was disappointed to find that the bass had missed my lure. I continued to work my topwater over and on the edges of the grassy flat, but wasn't able to hook into anything. After this, I motored over to the second point on the right to see whether the bass were hanging out along the drop offs or the docks. My initial instinct was to fish the drop offs, but after working the whole point, I figured that my intuition had led me astray. I switched things up and started fishing the docks and on my very first cast I felt my line get heavy. I quickly set the hook and landed a solid 1.47 pound smallmouth. I unsuccessfully fished a few more decks, then came upon a buoy located on top of a steep drop off. I made a perfect cast to it and gave my worm a few twitches. After a while, I finally felt something grab my worm and I was able to land a 1.43 pound smallmouth. I then hit a 20 minute cold stretch before coming upon a newly remodeled two-tiered deck. I didn't have any success on the sunny side of the dock, but as soon as I cast my drop shot over to the shady side I snagged a 0.5 pounder. I continued down the right side of the lake and even hit the V-dock area, but wasn't able to generate another bite, so I decided to motor up to a isolated cove on the north side of the lake. Buoys have been my money maker as of late, so I decided to start by fishing the three buoys in the cove. The first two were unproductive, but when I cast to the third a hungry bass grabbed it before I could even pick up the slack. I set the hook as quickly as possible and ended up landing a nice 1 pound smallmouth. I then spotted a nice dock that had two isolated pilings located in 30+ feet of water. I cast my drop shot in between the two and immediately felt my pole load up. I gave a strong hookset, but ended up missing it. I knew it was a good bass, so I let my worm sink back to the bottom in the hopes that it would come back and bite again. I worked my worm all the way back to the boat and was about to swing my worm up to inspect the it when I saw a massive shadow dart out and hammer my worm. I was stunned that a bass would bite my worm less than two feet from the boat, but after recovering from this shock I set the hook and the fight was on. After a great fight I managed to bring in the solid 2.07 pound smallmouth. I then glanced down at my fish finder to find a nice little drop off that ran from 10 to 30 feet. I cast down to the bottom of the drop off and slowly worked my worm up the slope. About a third of the way back, I felt something bite, so I set the hook and landed what ended up being a 1 pounder. The cove cooled off after this, so I motored further north to fish the docks on the fifth point on the right. I didn't get any bites on the first few docks I fished, but eventually I came upon a nice raised dock that had lots of shade under it. I cast right in the middle of the shade and after two minutes of working my worm was able to entice a bass to bite. It ended up only being a 0.5 pound dink. Three docks later, I came to another raised dock, but this time I wasn't able to get a bite from the shady region. Instead I got a bass to bite on the sunny side of the dock. This one was a little bigger and tipped the scales at 1 pound. After this the bite when silent, so I decided to head in and call it a day.
Observations: The water temperature ranged from 76-78 degrees, which is pretty normal for this time of the year. I caught my bass in a wide variety of depths ranging from 5-30 feet, which just goes to show that the bass aren't locked into a single pattern. A lot of the bass I brought up had a one or two following them, which tells me that the bass are beginning to school up. The bigger bass seem to be deeper and from looking at my fish finder, I believe that the 3+ pounders are suspended in 35+ feet of water, making it very difficult to entice them to bite. I've come to the conclusion that the morning bite is far superior to the evening bite this year, as my two best outings have come when I started before 9:00 a.m. Overall, it was a great outing that was further enhanced by the orange, Star Wars like, sunrise.