June 28, 2017
Fishing Time: 6:30 p.m. – 9:00 p.m.
Rating: 6
Weather Conditions: Sunny with Clear Skies
Bait: Strike King 3/8 ounce green pumpkin football jighead with Gary Yamamoto 5" Green Pumpkin Hula Grub; Drop Shot with Poor Boy's Baits Green Pumpkin Erie Darter and Quick Drop 1/4 ounce weight
Rod: Megabass Orochi XX Drop Shot Rod; G-Loomis GX2 Jig and Worm Rod
Reel: Shimano Sustain; Quantum Catalyst PT
Line: 7-pound Sunline Super Sniper FC; 8-pound Sunline Super Sniper FC
Total Bass Caught: 5
Final Weigh in Weight: 4.00 pounds
With Lake Sammamish finally heating up, I've been trying to capitalize on any and all fishing time that I can find, so when I found myself with a few free hours, I seized the opportunity to hit the lake. I knew I had limited fishing time, so I decided to get straight to business and fish the second point on the right. I started by fishing a few of that docks on the point, but when I didn't get any bites I switched things up and fished the drop offs instead. This ended up being a great call because on my second cast, I threw my worm over to an orange buoy and felt something devour my worm. I set the hook and was able to land a solid 1 pound smallmouth. During the time that I removed the hook and released the bass, my boat drifted back towards the docks, so I took this as a sign to go back to some dock fishing. The dock I ended up at was a two-tiered dock that resided in 20 feet of water. After analyzing the dock, I noticed a nice shady spot next to the swim ladder, so I made a cast over to it and gave my worm a few twitches. I went about a minute without a bite, but I was confident that there was a bass there, so I continued to let my worm sit there. It took a while, but finally my patience paid off and I was able to land a 0.5 pounder. The next dock that I came to was a little shallower and had weeds on either side, so I cast to the very tip of it to try and target the deepest part of the dock. As soon as my worm hit the bottom, I saw my line take off, so I set the hook and was able to land a 0.75 pound smallmouth. After that the bite went silent. I tried the drop offs and the V-dock area, but wasn't able to get anything to bite. At this point, the sun was beginning to set, so I figured that the bass would have begun their migration to shallower water. With this in mind, I motored over to fish the stretch of docks in between the first and second points on the right. The first few docks were infested with weeds, but eventually I came to a deeper dock without any weeds. I cast to both sides of the dock, but wasn't able to entice a bite, so I split the difference and cast to the very middle of it. After a few twitches, I felt my line get heavy, so I set the hook and managed to land a solid 1 pounder. A few docks later I got another bite and landed a 0.75 pounder. After releasing that bass, I noticed how dark it had gotten, so I decided to call it a day.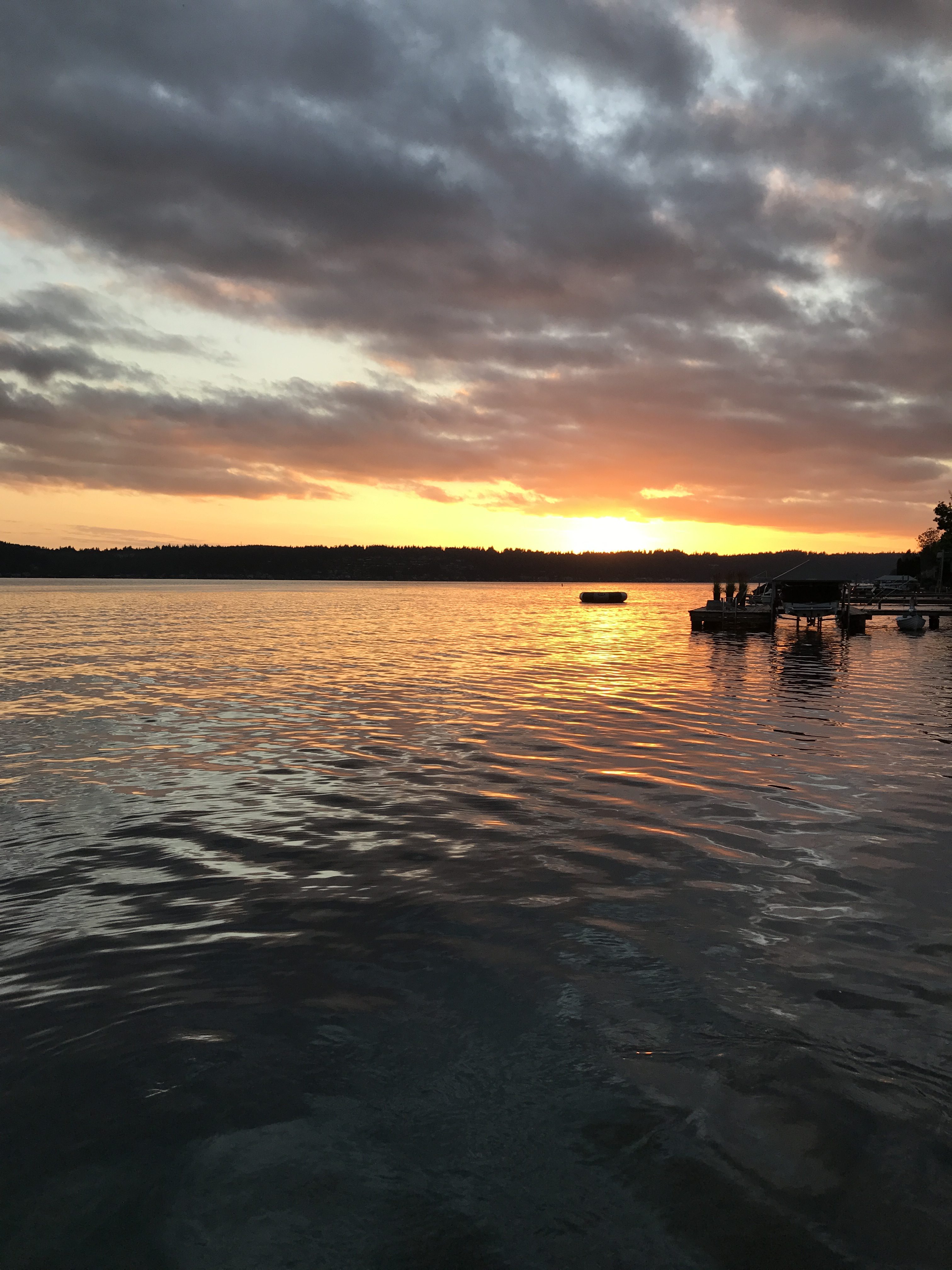 Observations: The water temperature ranged from 69-71 degrees, which is a little warmer than the last time that I fished the lake. I caught all of my bass in 10-20 feet of water and although I had the numbers, I was disappointed not to catch one over two pounds. However, I was lucky enough to get a good shot of the sunset (pictured above). The bass seem to be right in the middle of a transitional period with the smaller bass near the docks and the bigger ones in deeper water. All the bass I caught swallowed the worm, which tells me that they are actively feeding to help them recover from the grueling spawn. The past few outings have been decent, but I am still in search of some bigger bass.