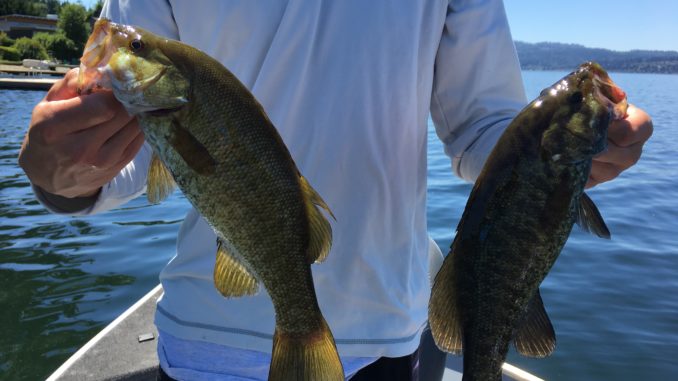 June 23, 2017
Fishing Time: 10:30 a.m. – 1:00 p.m.
Rating: 7
Weather Conditions: Sunny with Clear Skies
Bait: Strike King 3/8 ounce green pumpkin football jighead with Gary Yamamoto 5" Green Pumpkin Hula Grub; Drop Shot with Poor Boy's Baits Green Pumpkin Erie Darter and Quick Drop 1/4 ounce weight
Rod: Megabass Orochi XX Drop Shot Rod; G-Loomis GX2 Jig and Worm Rod
Reel: Shimano Sustain; Quantum Catalyst PT
Line: 7-pound Sunline Super Sniper FC; 8-pound Sunline Super Sniper FC
Total Bass Caught: 7
Final Weigh in Weight: 6.25 pounds
With summer officially here and a few hours to spare, I decided to hit the lake and see what I could catch. My last outing was my best of the year and showed me that the bass were moving back towards docks, so I decided to start out on the first point on the right to see just how shallow the bass had moved. I started by fishing a dock that sat in ten feet of water, but didn't have any luck, so I moved a little deeper and found a dock extending to 16 feet. I didn't have any luck near the swim ladder or the sunny side of the dock, but as soon as I cast to the shady side, I felt something blast my worm. I set the hook and after a great fight managed to land a solid 1.25 pound smallmouth. This bass told me that the smallmouth that were near docks were going to be holding tight to shade. The next few docks were too shallow, so I skipped over them until I came to a raised dock with a large boat next to it. I cast right in-between the dock and the boat and managed to snag a 0.75 pound smallmouth. A few docks later, I came to a really weedy dock that sat in about 12 feet of water. I knew that there would be a bass hanging around there, so I swapped to my jig and used it to located where the weedline ended. Once I found the spot, I swapped back to my drop shot and cast just past the weedline. I twitched my worm a few times and managed to entice a bass to bite. I set the hook and landed a small 0.5 smallmouth. The next few docks didn't look promising, so I decided to motor ahead to the second point on the right. I started by fishing the dock with two high pilings attached to it and on my very first cast to the right piling was able to land a 0.75 pound smallmouth. Most docks only house one bass, but since this one was so wide and had two huge pilings attached to it I decided to give the left one a try too. As soon as my worm hit the bottom, I saw my line take off, so I set the hook and sure enough had a bass on. Unfortunately, it ended up only being a 0.5 pound dink. The next dock I came to was a high two-tiered dock, so I cast over to the shady side and felt something hammer my worm. I quickly set the hook and knew that the bass on the other side was a big one. I fought with it for a while, but it managed to jump and shake the hook. I was crushed to see it swim off and estimate it to be a 2+ pound bass. After that loss, I moved on to fish a deep plastic dock. I made a perfect cast to a bow in the dock and immediately felt something bite my worm. I was excited to get a bite right after losing a big one, but this excitement ended up backfiring, as I set the hook too quick and ended up missing the bass. With two missed bass in a row, I was starting to get discouraged, but all I could do was keep on fishing. I came up empty handed at the next few docks, but then I came to a dock located on top of a deep drop off. I made a cast tight to the the dock (top of the drop off) and worked my worm down the slope. About 1/4 of the way back to the boat, I felt my rod begin to load up. I counted to three and then gave a quick hook set. This time the bass was on and when I got it back to the boat it ended up being a nice 1.25 pounder. I then hit a cold stretch, so I decided to head up to my favorite V-dock. When I got there, there were some fisherman already in the area, so I gave them their space and fished the stretch of docks before V instead. This ended up being a great decision because on my first cast I was able to snag a 0.75 pound smallmouth. After this, I wanted to try the stretch of docks that was hot last outing, so I headed up to the northeastern side of the lake. I fished around there for about 30 minutes, but wasn't able to get anything to bite. I wanted to continue fishing, but boat traffic really began to pick up, so I decided to head in.
Observations: The water temperature ranged from 68-70 degrees, which is whole 2 degrees warmer than the last time I fished the lake. As a result of this warmer water, the smallmouth were trying to find the coolest water around the lake and all the bass I caught were holding tight to areas of shady cover. My guess is that the bass will hang around the docks for another week or two and then will begin to move towards deeper water, although the bigger bass may have already moved deep. I was a little disappointed to miss so many bites today, but I was happy with the quantity of bass that I caught in such a short period of time.