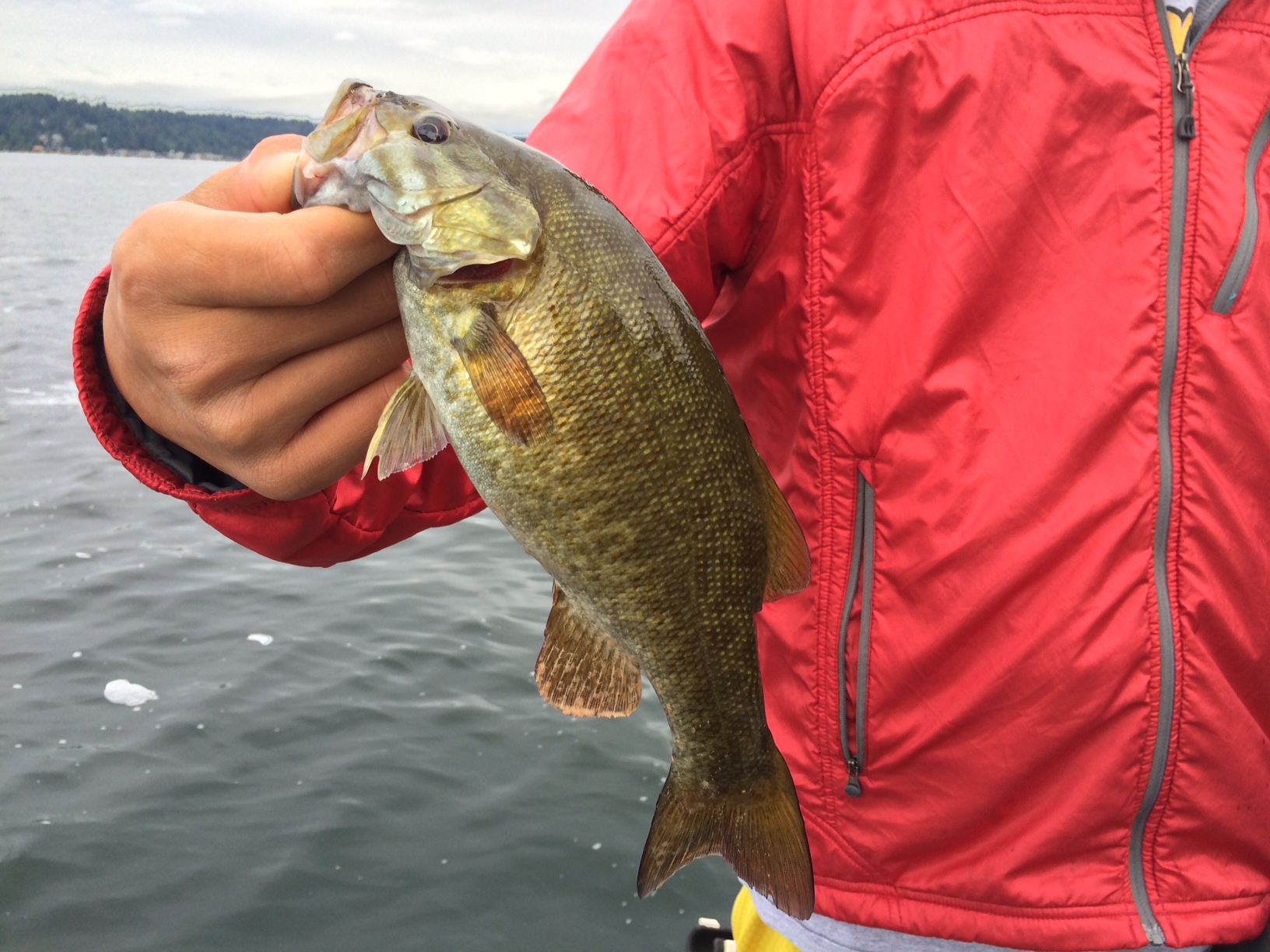 August 29, 2014
Fishing Time: 9:30 p.m. – 1:00 p.m.
Rating: 3
Weather Conditions: Cloudy with overcast skies
Bait: Drop Shot with Strike King Green Pumpkin KVD Dream Shot and Quick Drop 1/4 ounce weight
Rod: G-Loomis GX2 Jig and Worm
Reel: Quantum Catalyst PT
 Line: 8-pound Sunline Super Sniper FC
Total Bass Caught: 3
Final Weigh in Weight: 2.00 pounds
I took a short break from fishing, but I had some extra time today, so I decided to head over to Lake Sammamish. After launching, I headed straight to Vasa Park and the docks around there. I fished that area for about an hour, but was only able to catch a few perch. I then moved farther down the lake to the Rock Spot and had the exact same result. At this point, I was pretty discouraged because this has been my 3rd straight outing on Lake Sammamish without much success. After this I headed over to the right side of the lake, which has been the only side that I've been catching them. I started over by the v-shaped dock and on my first cast I able to land a 0.5 pound smallmouth. I then moved over to the next dock and on my first cast I got a big hit, but wasn't able to hook into it. On my next cast I casted just to the spot left of where I got the bite and as soon as it hit the bottom I landed a nice 1 pound smallmouth bass. I then continued fishing around there for another hour, but didn't have any success. After that I headed back to the boat launch and noticed a piling sticking out of the water. I casted to it and immediately I hooked into a 0.5 lb bass. On my very next cast I landed a nice 2 pound catfish. This catfish being the first one that I have caught in Lake Sammamish.
Observations: As the weather begins to change, the water temperature really begins to drop and the water seemed to range from 72-74 degrees, which is a lot colder than the last time I fished it. I was able to catch my bass in depths of 12-15 feet, which is about the depth that I would expect for the water temperature. Unfortunately I feel like the bass fishing season is starting to wind down and the big smallmouth don't seem to be biting any more.