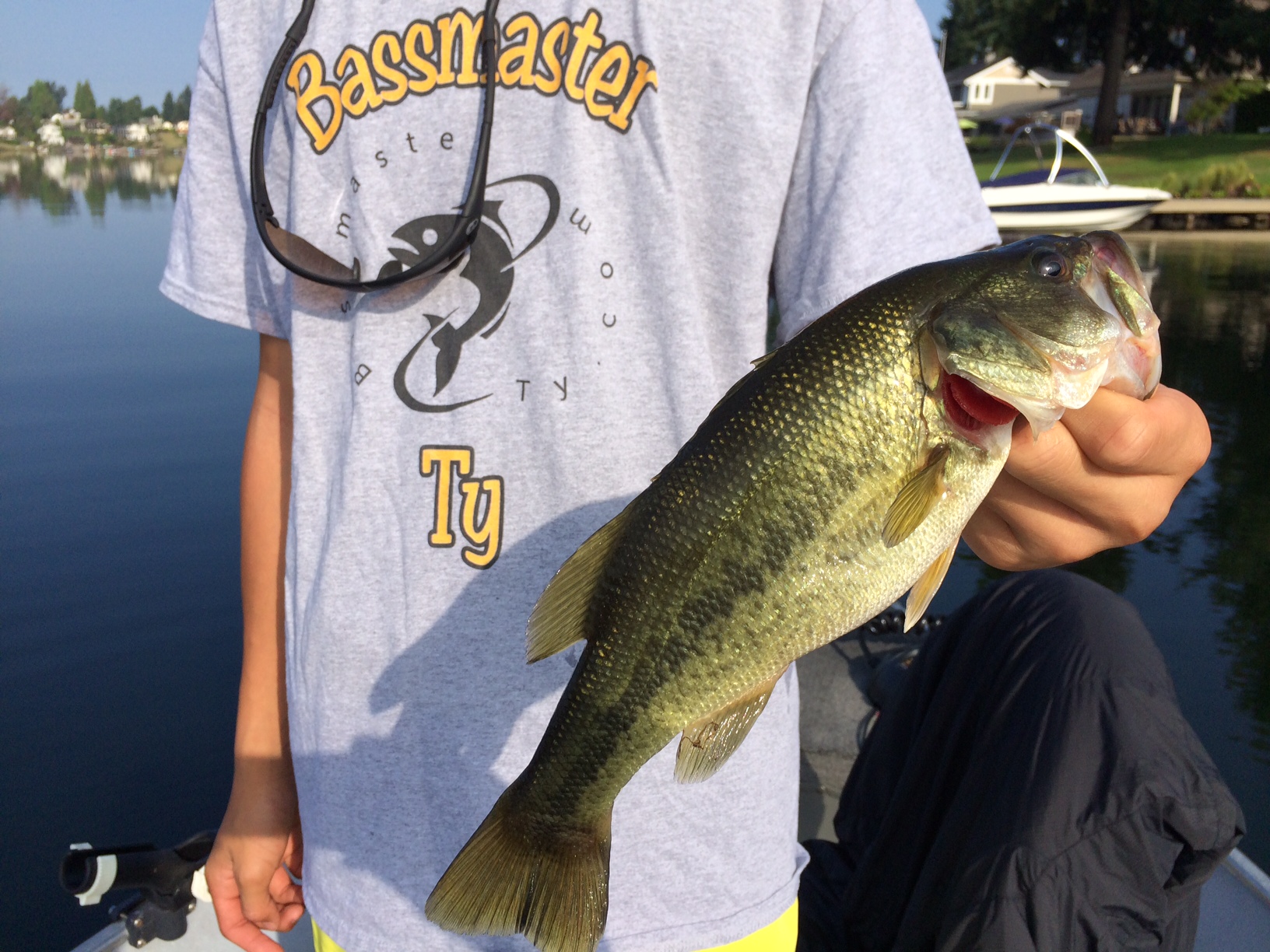 August 18, 2014
Fishing Time: 9:00 p.m. – 12:00 p.m.
Rating: 3
Weather Conditions: Sunny with clear skies
Bait: Drop Shot with Strike King Green Pumpkin KVD Dream Shot Worm and Quick Drop 1/4 ounce weight/ Strike King Sexy Shad 3XD Crankbait
Rod: G-Loomis GX2 Jig and Worm
Reel: Quantum Catalyst PT
 Line: 8-pound Sunline Super Sniper FC
Total Bass Caught: 3
Final Weigh in Weight: 2.68 pounds
I had a free day today and I decided to give Lake Meridian a try. When I got there, my first impressions of the lake were that it was pretty small, weedy, and there were a lot of baitfish. As soon as I got out onto the water, I saw that I was right about the weedy part. Almost everywhere was covered with weeds, which made it extremely difficult to fish. Since the lake was so small, I decided to hit every single dock, so I started on the right side and worked my way around. The first few docks were extremely shallow and weedy. I wasn't able to get anything from those, but what I did notice was that some of the docks had floating docks attached to them. These floating docks were a little farther out and had a lot less weeds, so the first one that I came upon I casted my drop shot to. As soon as it touched the bottom, I felt a huge tug and was able to land a nice 1.18 pound largemouth bass. I then moved over to the next few docks and noticed a really rocky patch between the two, so I picked up my Strike King Sexy Shad crankbait. I casted near the dock and as soon as it hit the water, the surface exploded as the bass jumped up for the crankbait. I quickly set the hook and was able to land a decent 1 pound bass. I then continued moving along the docks and came upon another floating dock. I went back to my drop shot and was able to land a small 0.5 pound bass. Unfortunately, from there it went quiet and I wasn't able to land anything else. This was probably due to the fact that it was so weedy.
Observations: The water was around 75-76 degrees, which is about what I was expecting it to be. The lake wasn't very deep, but I was able to land my bass in a variety of depths ranging from 5-13 feet. It was extremely weedy, which made it very difficult to fish in, but I did see some decent sized bass. The water was very clear and you can see about 6 feet down in the water. One other thing that I noticed was that there was an abundance of baitfish. Almost every other dock had a school of baitfish. This may have added to the tough fishing because all the bass that I did see were really lethargic and didn't seem interested in any of the lures I was throwing at them. All in all, a decent lake to catch largemouth, but it really isn't anything special.